THE SMELL OF MONEY:
Senator Bernie Sanders Takes the Crooked Road For Obama's Crony Banksters for
KILLARY KROOKED KLINTON
"The response to the publication of these speeches by so-called "socialist"
Bernie Sanders
exposes the utterly fraudulent character of his entire presidential bid. While he postured during the Democratic Party primaries as a proponent of a "political revolution" against the "billionaire class,"
Sanders
now functions shamelessly as a sideshow for the Clinton campaign, browbeating his (now much smaller) audiences with admonitions to vote for the preferred candidate of the "billionaire class" he claimed to oppose."
Students Yell 'Hillary Is a War Monger' and 'Sellout' During Bernie Rally at University of New Mexico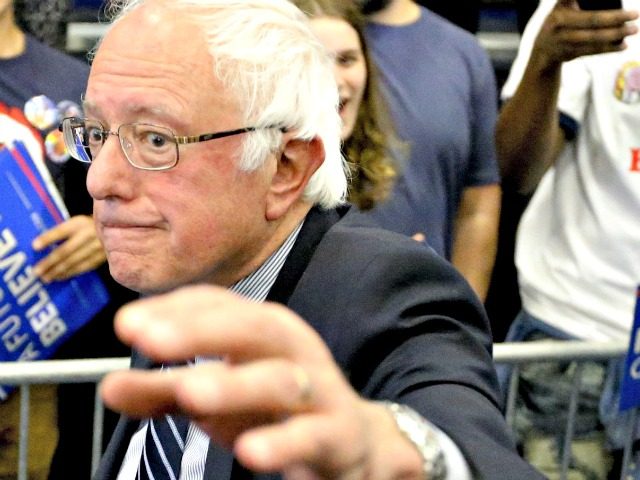 Vermont Senator Bernie Sanders is struggling to transfer the enthusiastic support he received in the Democrat primary to Democrat presidential nominee Hillary Rodham Clinton.
A crowd estimated at around a thousand people showed up to listen to Sanders at the University of New Mexico on Tuesday, but many of the students used the rally to express their disgust with Clinton by yelling, "Hillary is a war monger" and unfurling a sheet with "Never Hillary" written on it.
The
Albuquerque Journal
report
on the rally included a picture of the sheet with "Never Hillary" written on it and covered the protesters by saying in part, "A vocal contingent of protesters made their presence felt at today's event, some brandishing signs in support of Libertarian nominee Gary Johnson and at least one shouting 'Bernie is a sell out!'"
Supporters of both Green presidential candidate Jill Stein and Libertarian candidate Gary Johnson appear to be well represented in Tweets from the event. Stein has aggressively courted Sanders supporters by slamming Clinton since the Democrat convention in Philadelphia.
THE SAUDIS ROYAL LARDBUCKETS and their boy Obomb:
DON'T THEY OWN THE BUSH CRIME FAMILY, HILLARY AND BILLARY
AND THE CLOSET MUSLIM OBOMB?
Selling Out America and Sucking In the Bribes!
BILL CLINTON SUCKS IN BRIBES FROM ISIS DONORS!
The Muslim Sheikhdom Qatar is a major sponsor of ISIS and global anti-American terrorism. How disturbing is it that Bill Clinton sucked in a bribe of ONE MILLION DOLLARS under the guise of a birthday gift? There is NO one the Clintons will not sell us out to and have already!
WAKE UP, FOOLS! It's already here!!!
AMERICA'S TWISTED ROAD TO REVOLUTION:
Fighting back Wall Street's Looting and Rule